Easton Industries: Manufacturing & Installing Cultured Stone Products Since 1974

Why Choose Easton Industries? The answer is simple: Experience!
Easton Industries has been manufacturing and installing cultured marble, onyx and Eastonite™ cultured granite since 1974.  Our products have been used in new residential and hotel construction as well as residential and commercial remodeling.  After nearly 50 years, we've perfected the science and the art that is required to make our beautiful, durable products.  Quality and consistency is what has kept our customers happy and satisfied for all this time.
Customer Service
Whether you are building a new home or renovating an old one, we know that you have a lot of questions to be answered and selections to be made in all aspects of the project.  When you partner with Easton Industries, we want you to be able to enjoy the selection process and the experience. Although we have the largest showroom in the area, we have designed it so that you can understand your choices quickly and easily.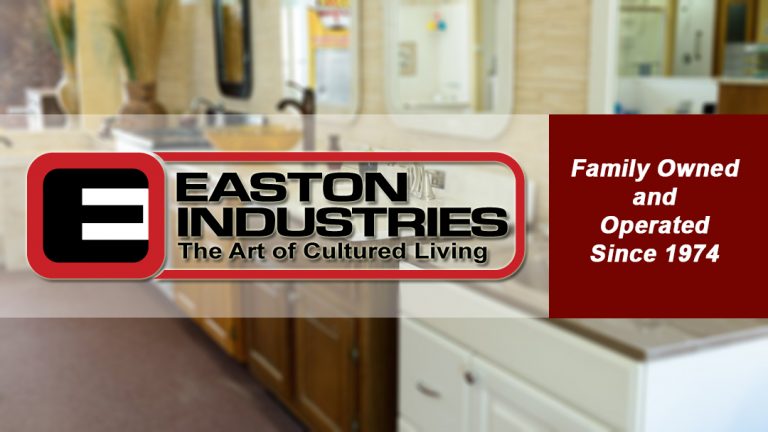 Our Showroom Team Members have decades of experience with our company and will always have an answer to your question.
We are committed to helping you best understand the entire experience with our products, and we are excited to take the time to familiarize you with the products and process. Additionally, we strive to keep you within your budget, and we can direct you to the selection choices that will not exceed your allowances. At any point in the process, if you have concerns or questions, we are just a phone call away.
Installation & Scheduling
Timeliness is critical to the building process.  Our motto is simple: "Do what you say you are going to do when you say you are going to do it".  Therefore, a growing number of customers, partners and most of the contractors in the area have come to rely on us year after year for timely service and installation.  Ask around and you'll find a long list of satisfied builders and customers that use Easton Industries exclusively for their cultured stone products.
Our installers are Easton employees, not outside hires paid by the piece or the hour.  Their mission is to install your cultured marble shower, kitchen, or any of our products, with the utmost skill and attention to detail; to provide you with a finished product that is everything you hoped and expected it to be.
Our service and measuring specialists will meet with you or your contractor to make sure we understand exactly how you want the finished product to look.  We listen and make suggestions based on our experience and how it relates to your individual situation.  This information is then shared with our Professional Installation Teams who follow these instructions carefully and precisely.
The Easton Industries Team
Easton Industries has been a family business since 1978. We serve the Grand Strand and surrounding areas. We are a local business not a national company. Cullen Marcis, Owner and President, took over from his father, Mike Marcis, in January 2021, who took it over for his parents back in 1992. After almost 50 years we are still the place to go for all your cultured stone needs.
Easton has been fortunate to have loyal, dedicated employees on its staff. Most of the key personnel responsible for managing the business have been with the company at least 20 years.  Even the employee responsible for blending the raw materials to produce the consistent color and quality has been with the company since 1982.
cullen@eastonind.com
Cullen joined Easton in 2018 and has quickly learned and performed every aspect of production and installation in that short time. He would be the first to tell you that his favorite aspect of the business is working directly with customers in their home or the showroom to help plan and make selections. Cullen works directly with the other managers to coordinate scheduling and production and is responsible for making sure all jobs are produced to meet their scheduled installation date.
Joni Visci
Operations Director
joni@eastonind.com
Joni has been with Easton Industries since 1995 and has been the voice you hear on the phone and the face you see in the showroom for the entire time. Joni works directly with customers on product selection, quotations, scheduling and production coordination. Her other duties include payment processing, builder orders (scheduling, pricing and processing) and generally making sure that Easton Industries showroom and office operations work as efficiently as they possibly can. With 25 years of experience, there isn't anyone who does it any better. Joni is a native of New York and enjoys trading stories with others who share her "northern" roots.
Brad Weaver
General Manager
brad@eastonind.com
Brad joined Easton Industries in 2002 as a cultured marble installer and almost immediately became the lead installer on the largest project ever done by Easton Industries: the Margate Tower at Kingston Plantation in Myrtle Beach. The tower has 29 floors with 9 units per floor, each unit includes 3 showers and a whirlpool tub. Over the course of 2 years, Brad experienced and excelled at all aspects of installation and he saw the project through to its timely completion. In 2006, Brad was promoted to Service Manager and he has met with thousands of homeowners to measure, plan and coordinate remodeling projects and new construction. Brad has a keen eye for efficiency and makes sure that every project he measures provides the best value for the customer.
Derrick Maestas
Production Manager
derrick@eastonind.com
Derrick is experienced in every aspect of production and finishing and was promoted to Production Manager. He is responsible for raw material procurement, quality control, and production coordination. He works side by side with the production crew every day to make sure that our man-made product is consistently "showroom quality". Hap has spent his entire life in the building materials industry from lumber to glass to cultured marble. He understands processes and the importance of organization. You may also catch him on the showroom floor from time to time as his experiences give him a valuable perspective when helping customers plan their projects and make their selections.
Dale Heavener
Senior Service Manager
dale@eastonind.com
Dale cut his teeth as a cultured marble installer for a large company in Atlanta in the 1990s before joining Easton industries in 2001. He was promoted to Service Manager in 2005 and has been the Senior Service Manager for more than a decade. Dale's vast knowledge and experience make him uniquely qualified to oversee all aspects of installation coordination, quality control and service. He has measured and installed thousands of vanity tops, showers, tubs and kitchen counters during his career and puts this experience to work for you when he meets with you to plan a project.
Josh Abercrombie
Service Manager
josh@eastonind.com
Josh came to Easton in 2021 and hit the ground running as our production manager. As a Navy veteran we were confident he would be quick to learn about the manufacturing process. Josh excelled in efficiency and quality control. After bringing in to the shop a structured and organized work ethic we brought Josh out on the road to work as a service manger. He brings that same drive out in the field meeting with homeowners and contractors. While measuring jobs and communicating with them our process he is well equipped to show customers  how we can bring to them the final products they seek.
Brianne Brown
Design Consultant
brianne@eastonind.com
Myrtle Beach native who has worked around the building and in the customer service industry for 20 plus years.
Bri joined us at Easton in 2020 assisting customers daily with quotes, color selections , processing payments ,answering phones and helping contractors and homeowners with any questions they may have. She enjoys working with people, meeting new faces as well as returning customers everyday.
Why Custom Design?
"Custom Designed and Manufactured…It's What We Do"
Not all spaces are the same, thank goodness. With that in mind, we at Easton Industries decided back in 1974 to devote our talent and focus on enhancing the differences and making them special for everyone involved. We approach every project with a fresh eye and look to it as a new canvas on which we work with our clients, partners and our homeowners to create the masterpiece of their dreams.
We undertake every step as a unique part of the Custom Design Process. Our Design Consultants help guide our clients, partners and homeowners through the many benefits and attributes of all our products and services.
We refer to our Manufacturing Team Members as Artisans, as what they do is truly an art. They hand mix, hand pour and hand design each piece that comes through our facility. This enables each piece to be designed and manufactured specific to the desires and demands of our clients.
Our Finishing Professionals, hand buff and polish every piece to perfection, delivering the highest quality products. Our Installation Teams take the utmost care in delivering and installing the newly made cultured stone creations into the homes and businesses of pleased homeowners, contractors, business partners alike.
Cities We Serve
Aynor, Calabash, Cherry Grove, Conway, Carolina Forest, Forestbrook, Garden City, Georgetown, Little River, Litchfield
Longs, Loris, Myrtle Beach, Murrells Inlet, North Myrtle Beach, Ocean Isle, Pawleys Island, Sunset Beach, Shallotte, Supply, Surfside Beach, Tabor City