Shower Bases
All cultured shower bases are custom made.  In most cases, the drains are located to fit the existing drain location and the shower base size is made according to the measurements we take on site for the new shower.  Our shower bases have a built in slope to the drain and a built in texture that gives your foot something to grip when you step into the shower.  Custom shower bases are made without a built-in threshold.  The threshold is a separate piece that stands approximately 4" tall.  Handicap access shower bases can have no threshold at all, simply a ramp or trim piece that traverses the seam between the existing bathroom floor and the new shower base.
Handicap Accessible Showers
All our showers can be made with a low-profile threshold front for easier handicap access. We can create a narrow threshold ramp to adjust for uneven transitions from floor to shower. We can also include a collapsible rubber membrane on top of the threshold that will allow a wheelchair to be rolled into the shower but then also keep water from flowing outside the shower on to the floor.
Bench & Corner Seats
Bench seats are framed and wrapped with marble inside of the shower area and are custom made to fit your space requirements. Bench seats are a more practical option for bigger showers.
Corner seats require no additional framing and fit nicely in the corner of your shower. They're the shape of a ¼ piece of pie and come 16″ out of the corner on each side. Corner seats are a more practical option for smaller shower areas.
Soap and Shampoo Holders
Large Holders: these recessed shampoo and soap holders are twice as wide as our standard combo. The inner cavity measures 12″ wide and fits easily between standard 16″ on center stud spacing in the wall.
Corner Holder: Add this shampoo/soap holder to the corner of your shower for storing larger items in a convenient location.
Corner Shelf: 10″ holder for storing your items that attaches to the corner of your shower.
Toe Shelf: holder for storing your items that attaches to the corner of your shower.
Ogee Shelf: Add an individual floating shelf to your shower or group two or more together.
Square Edge Shelf: New addition with a bolder profile & a floating shelf look. Can be individual or grouped.
Grab Bars
Safety Grab Bars are available in 24" and 16" lengths for use in commercial or residential installations. We offer your choice of chrome and brushed nickel to complement your shower hardware. Grab bars can be installed in your shower vertically, horizontally or diagonally depending on your wall stud configuration.
Plumbing Fixtures
Most of our selected style of valves, hardware and trim for tubs and showers used in our Bath Transformations are provided by Moen, known all over the world for their durability, quality and exquisite design. A few option items that Moen doesn't make come from our other national brand sources. Choose from chrome and brushed nickel finishes.

Tile Finishes
Shower walls and kitchen backsplash can come in either a "high gloss" or "subway" tile pattern in any color or product in our assortment. Both are permanently sealed in our high shine gelcoat finish, making both easy to clean and maintenance free.
Decorative Rope Trim
Accent the entrance to your walk-in shower with this dramatic 1″ thick trim. Choose a color to match your shower walls or a complimentary color for a contemporary 2-tone look. The trim is 1 3/4″ wide and made in 96″ lengths and cut to fit on site. The corners are dressed in decorative matching rosette.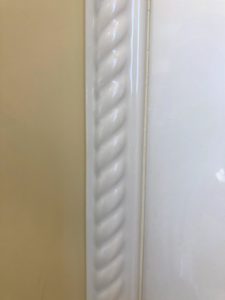 Shower Inlays
Shower and tub wall panels can be highlighted with a feature inlay of real 4" square tumbled tiles with decorative hand painted designs or our own Eastonite™ in a 6" inlay. You can even do a beautiful mosaic tile inlay featuring palm trees on a beach at sunset. The 18" x 24' inlay fits nicely in the large back wall of your shower.
Our glass enclosures are all done semi-frameless, giving you the most fashion forward contemporary door system. You'll be impressed by the solid construction and professional installation that these doors bring to your finished shower or tub. The doors are done in clear glass and are available in chrome and brushed nickel with accessible towel bars mounted right through the glass.
Cities We Serve
Aynor, Calabash, Cherry Grove, Conway, Carolina Forest, Forestbrook, Garden City, Georgetown, Little River, Litchfield
Longs, Loris, Myrtle Beach, Murrells Inlet, North Myrtle Beach, Ocean Isle, Pawleys Island, Sunset Beach, Shallotte, Supply, Surfside Beach, Tabor City