Easton Industries can affordably and efficiently upgrade or remodel your bath in just a few days from start to finish!
Replace that old tub, shower or vanity top efficiently, beautifully and affordably.  We remove the old product and plumbing fixtures and replace them with your choice of our cultured products in a variety of colors and styles.  All products are custom made and installed to fit your space and your functional and style desires.  We can even do handicap and wheelchair access showers.   Most all tub and shower transformations are completed in just two days and vanity top replacements usually only require a couple of hours.  Choose from our selection of new faucets and fixtures or provide your own.  Either way, you get the new tub, shower or vanity top that you want in a short time frame and at a price that always beats the bigger name brands because we're a local company without all the overhead of a national franchise.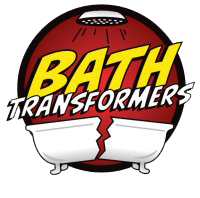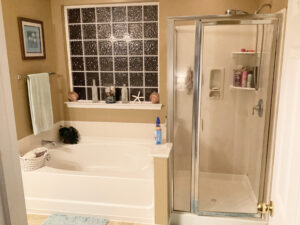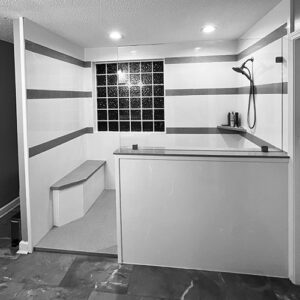 Bath Transformers Process
In-Home Estimates

(From Myrtle Beach to Shallotte, NC to Aynor to Georgetown)

We highly recommend that you come by our Myrtle Beach showroom before you have us come out to field measure your transformation.  You'll be able to see many different full size displays of the tub, shower and vanity top options available to you.  You can also take some color samples home with you and we will make detailed notes about the options you would like to include in your finished transformation.  We do have an in-home field measure fee of $25 that we will credit back to you if you follow through with the job after the quote is completed.

Field measures are scheduled in advance by our service and design technicians.  We normally contact you a day ahead to schedule a time for the following day.  You can always schedule an appointment in advance to suit your schedule better.  During the home visit, we will take measurements and answer any questions you may have.  We may also ask you questions relative to the option items you would like to see included in the estimate.  We do not provide estimates on site and we do not make a pressured sales pitch.  We bring back the measurements and selections to our showroom where we calculate the costs associated with your project.  A formal quote is prepared and emailed to you for your review.  If you would prefer, we can call with the quote.  Feel free to call us at any time if you have any questions or concerns before or after you receive your estimate.  Estimates are valid for 60 days so there is no pressure to make a quick decision.

Once you decide to move forward with the project, you can initiate the process by making a 50% deposit.  This will put you on schedule and we can provide you with the install date(s) within a day or two of your deposit. The 50% balance is not due until the project is completed.
Production

All of our cultured products are made in our factory right here in Myrtle Beach.  We receive the raw materials and do our own production.  Having total control of the manufacturing and installation process means that we can deliver on the promises we make for the timeliness and the quality of the finished products we install in your home.
Demolition & Installation

The first day of your renovation is the demolition day. This will include the removal of your existing items and the preparation work of retrofitting existing plumbing lines for the new products. Once the demolition is complete and the prep work is ready, the cultured marble shower base or tub is installed, and the drain is connected. New sheet rock is then installed in the areas that it is needed. This entire process typically is done within one or two days. The installation of the cultured marble wall panels and accessory items is done the very next day. This usually just takes a few hours on basic package installations. Custom installation may take a little longer but is almost always completed in one day. The final day of the project involves the installation of the plumbing trim (shower head and valve) and the glass enclosure. During the entire process, we will be cleaning behind ourselves and leaving your home in the condition it was before we arrived. Keep in mind that cultured marble installation requires custom cutting of the material. This is done outside, and it does throw off some dust as it is being cut. We are always mindful of where this dust is going and although it is not harmful and washes away easily, we cannot completely contain it.
Whether you're replacing a standard sized tub or creating a whole new bathroom for yourself, Bath Transformers have the products to make it happen. Beautiful and durable cultured marble showers, tubs and vanity tops in over 30 colors are all on display in our large showroom right in Myrtle Beach. We also have finished displays with plumbing and glass doors installed to help you see what your project will look like when it is completed.
Cultured Marble
From the basic to the dramatic, our color assortment will allow you to stretch your imagination and design to fit your style. We offer more than 30 colors in cultured marble, cultured onyx and Eastonite™ cultured granite. Our color assortment is exceeded by our product assortment. We offer 8 different tub sizes and can make showers or vanity tops to any size or shape you may need. With this kind of variety, you'll be able to customize your new bath at an affordable price.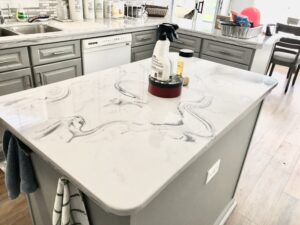 Tile Finishes
Shower walls and kitchen backsplash can come in either a "high gloss" or "subway" tile pattern in any color or product in our assortment. Both are permanently sealed in our high shine gelcoat finish, making both easy to clean and maintenance free.
Handicap Accessible Showers
All our showers can be made with a low-profile threshold front for easier handicap access. We can create a narrow threshold ramp to adjust for uneven transitions from floor to shower. We can also include a collapsible rubber membrane on top of the threshold that will allow a wheelchair to be rolled into the shower but then also keep water from flowing outside the shower on to the floor.
Bench & Corner Seats
Bench seats are framed and wrapped with marble inside of the shower area and are custom made to fit your space requirements. Bench seats are a more practical option for bigger showers.
Corner seats require no additional framing and fit nicely in the corner of your shower. They're the shape of a ¼ piece of pie and come 16″ out of the corner on each side. Corner seats are a more practical option for smaller shower areas.
Soap and Shampoo Holders
Large Holders: these recessed shampoo and soap holders are twice as wide as our standard combo. The inner cavity measures 12″ wide and fits easily between standard 16″ on center stud spacing in the wall.
Corner Holder: Add this shampoo/soap holder to the corner of your shower for storing larger items in a convenient location.
Corner Shelf: 10″ holder for storing your items that attaches to the corner of your shower.
Toe Shelf: holder for storing your items that attaches to the corner of your shower.
Ogee Shelf: Add an individual floating shelf to your shower or group two or more together.
Square Edge Shelf: New addition with a bolder profile & a floating shelf look. Can be individual or grouped.
Decorative Rope Trim
Accent the entrance to your walk-in shower with this dramatic 1″ thick trim. Choose a color to match your shower walls or a complimentary color for a contemporary 2-tone look. The trim is 1 3/4″ wide and made in 96″ lengths and cut to fit on site. The corners are dressed in decorative matching rosette.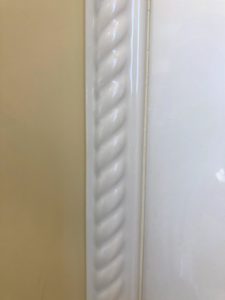 Grab Bars
Safety Grab Bars are available in 24" and 16" lengths for use in commercial or residential installations. We offer your choice of chrome and brushed nickel to complement your shower hardware. Grab bars can be installed in your shower vertically, horizontally or diagonally depending on your wall stud configuration.
Plumbing Fixtures
Most of our selected style of valves, hardware and trim for tubs and showers used in our Bath Transformations are provided by Moen, known all over the world for their durability, quality and exquisite design. A few option items that Moen doesn't make come from our other national brand sources. Choose from chrome or brushed nickel finishes.

Our glass enclosures are all done semi-frameless, giving you the most fashion forward contemporary door system. You'll be impressed by the solid construction and professional installation that these doors bring to your finished shower or tub. The doors are done in clear glass and are available in chrome and brushed nickel with accessible towel bars mounted right through the glass.
All products and installation are warrantied for a period of 2 years. This warranty shall not apply if the product or installation defect is determined to be caused by abuse, negligence or a third-party contractor.
Cities We Serve
Aynor, Calabash, Cherry Grove, Conway, Carolina Forest, Forestbrook, Garden City, Georgetown, Little River, Litchfield
Longs, Loris, Myrtle Beach, Murrells Inlet, North Myrtle Beach, Ocean Isle, Pawleys Island, Sunset Beach, Shallotte, Supply, Surfside Beach, Tabor City