Kitchen Countertops & Backsplashes

Our cultured products for your kitchen are one of the most cost-efficient options on the market today.  Our products are less expensive than natural stone, solid surface and quartz but perform equally well over the life of the countertop.  Cultured surface countertops have a built-in sealer that will not allow any moisture penetration, so you will not get stains or any bacteria buildup.  And since the beautiful high gloss sealer is a permanent part of the product, you never have the maintenance of re-sealing it.  Our products are resilient, but we recommend a cut board and a hot pad anyway.  If you should get a scratch or a chip, we can easily repair those, so you are not stuck with the blemish.  You cannot do that with natural stone.
We are well known for our process of installing our cultured countertops right over your existing countertop, usually laminate or tile.  This saves time and money, making our products and installation the most cost-efficient option on the market today.  The installation usually only takes a few hours which is why we say:
HAVE BREAKFAST ON YOUR OLD COUNTERTOPS
AND DINNER ON YOUR NEW ONES!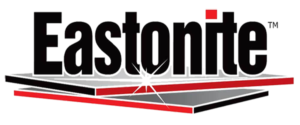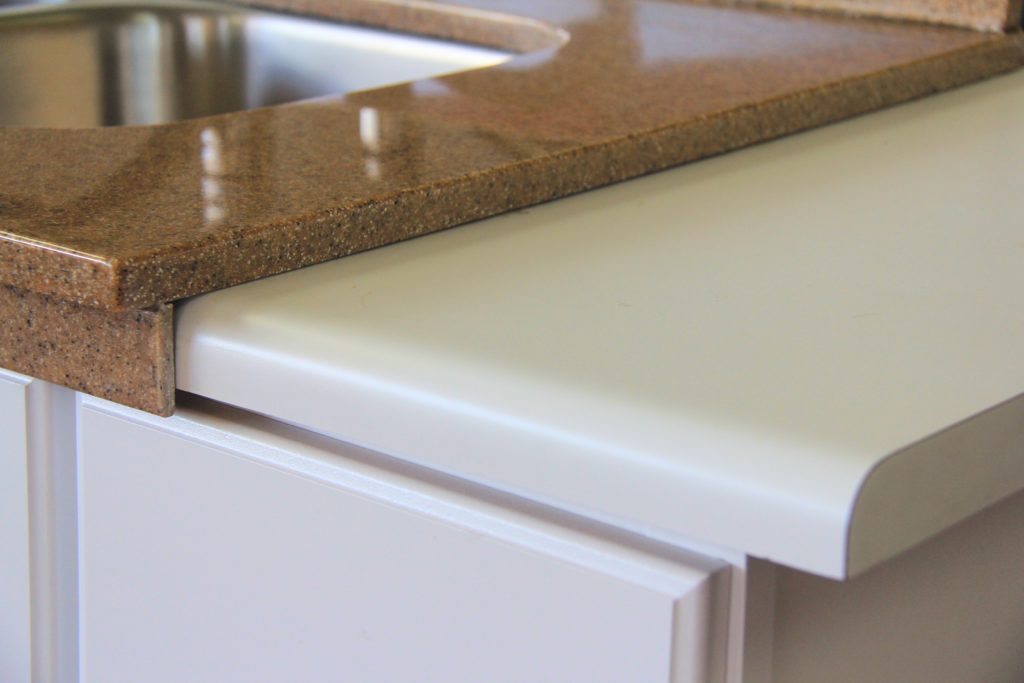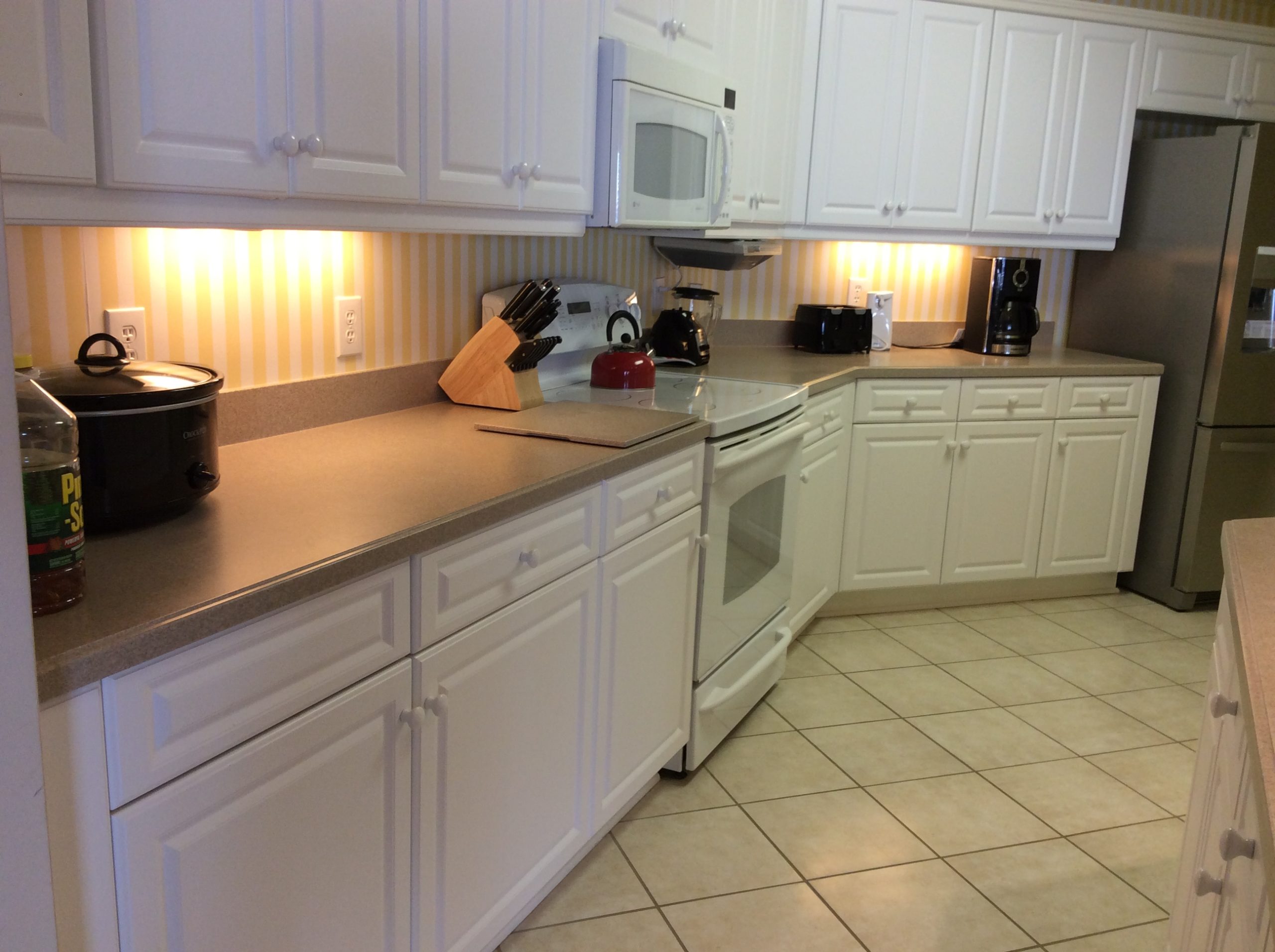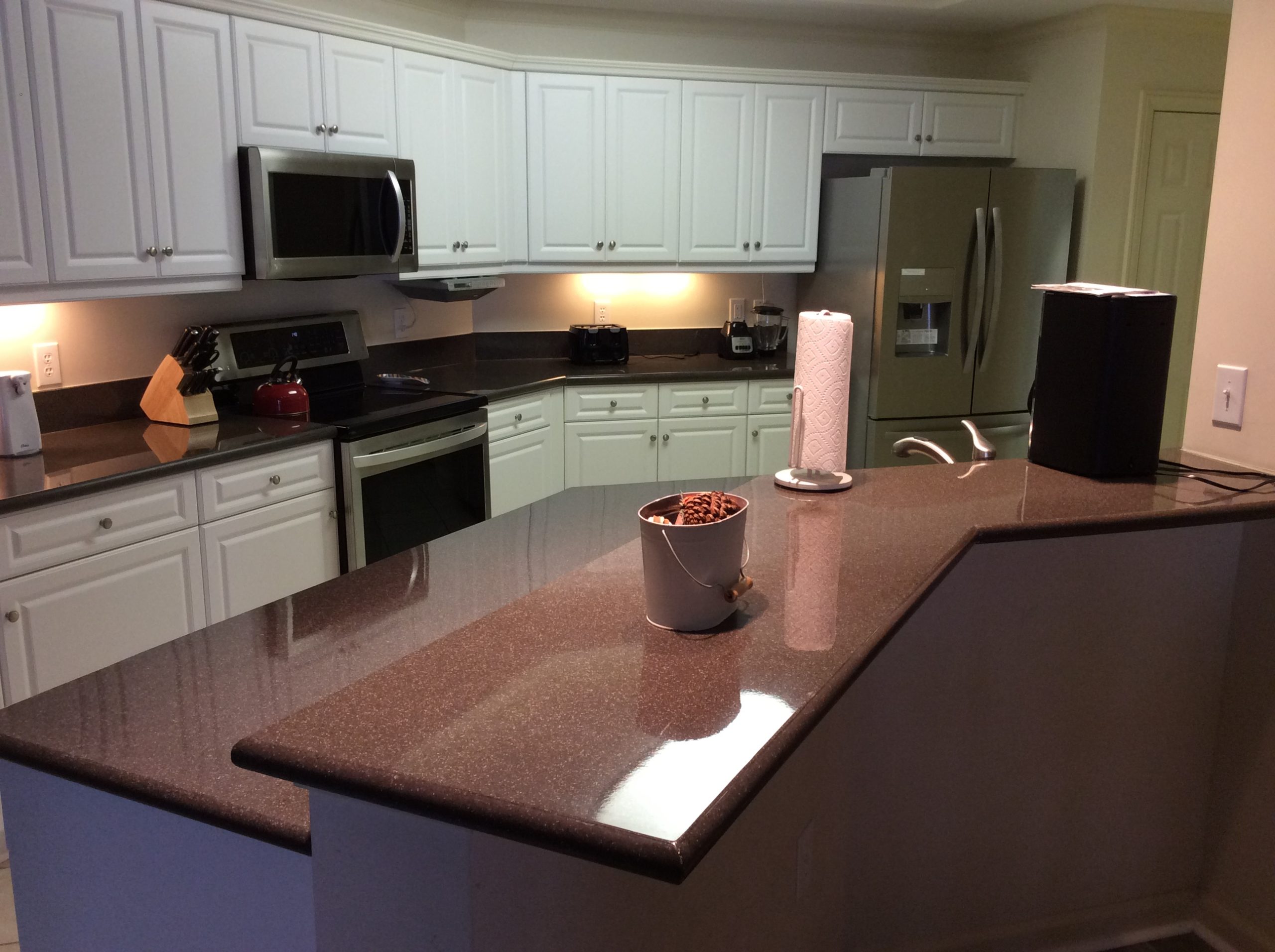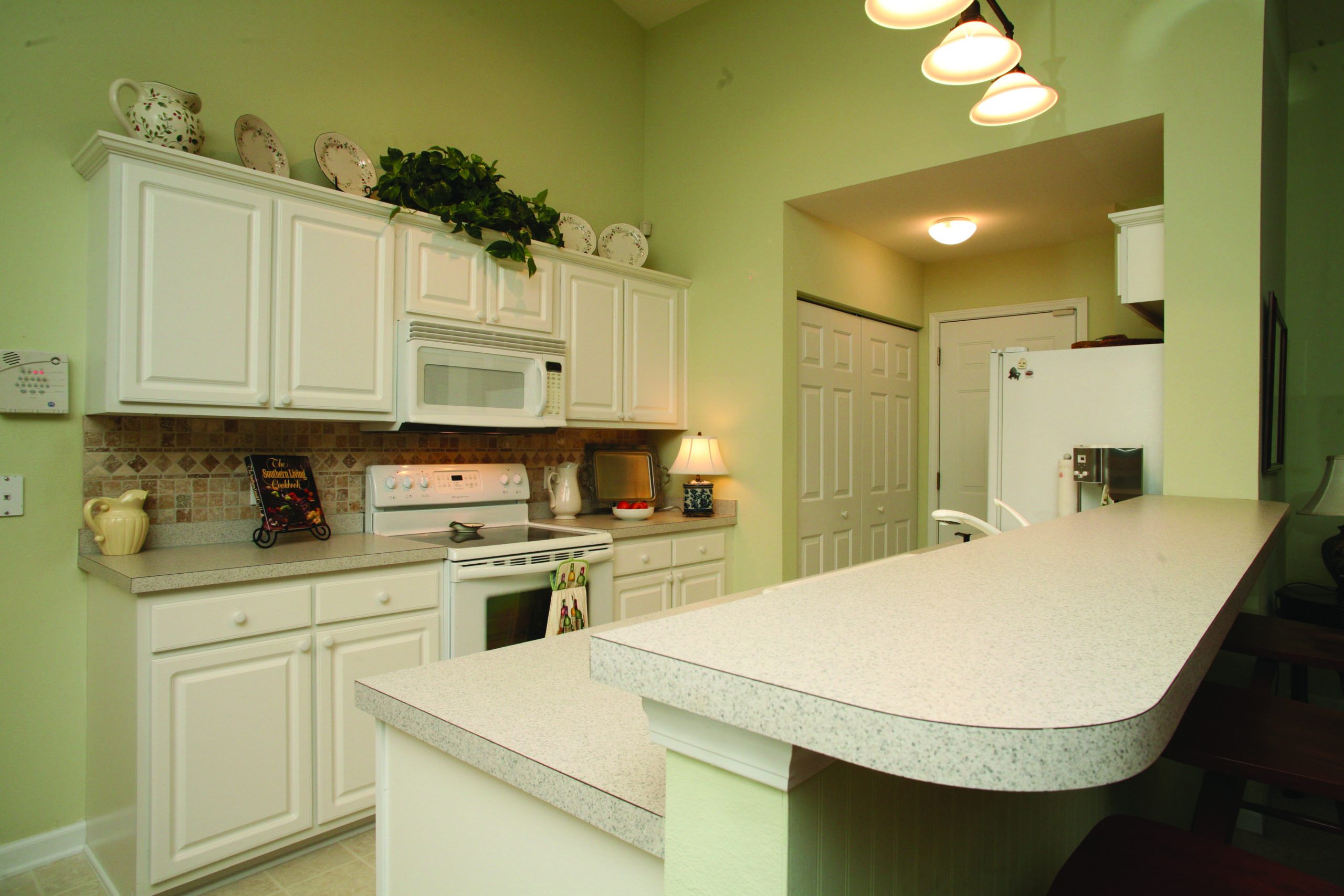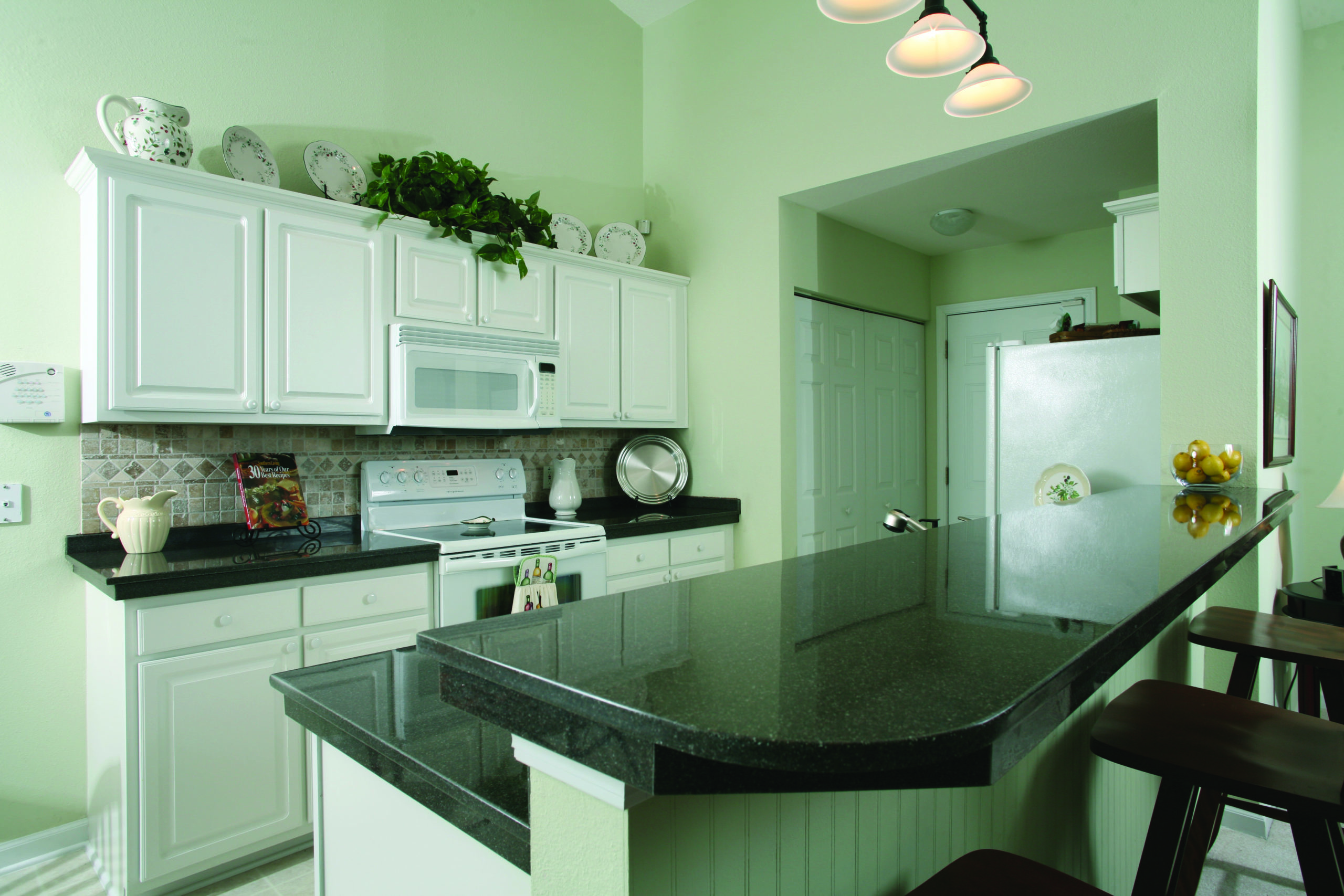 Custom Kitchen Countertops
All countertops that we manufacture are based on precise field measurements we take in your home.  Those measurements are used to provide you with a price quote that is valid for 60 days.  Because we are a custom manufacturer, we can tailor our product to match the radiuses and angles that are in your current kitchen counter.  We have large table molds that we use to cast your new countertop and they allow us to make very large sections, however, some lengths or widths may be too large to manufacture in one piece,  If so, we look at options for a seam placement that you'll be happy with.  Our installers do such a good job with their precision cuts on the job that the seam will be as tight and clean as possible.
We also offer a variety of backsplash, stainless steel sink and faucet options for your convenience.
Cultured Marble
A 2-dimensional veined surface with a solid background color and a second "veined" color designed to replicate natural stone marble.
Cultured Onyx
A 3-dimensional translucent surface that allows you to see the colored veining pattern throughout the thickness of the product.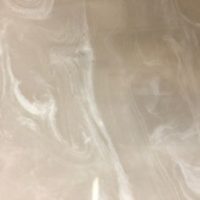 Cultured Granite
Resembles granite or solid surface products at a less expensive price. Choose from 15 color options with or without veining patterns.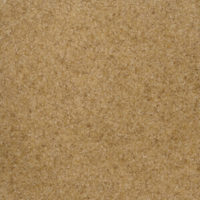 Kitchen backsplashes are the ideal complement to finish off every kitchen. They can either provide a beautiful background from which you can work or provide the wow factor of really making a statement. At Easton Industries, we have several options for you to explore as you decide what statement you want to make with your kitchen design.
Standard 4-inch backsplash
Continue your same countertop material up the wall to your cabinets
A complementary or contrasting color or material up the wall to your cabinets
Easton Industries' Subway Tile Pattern
Easton Industries' beautiful new Tyvarian
Whatever look you are going for as you design your dream kitchen, Easton Industries has the perfect fit for your backsplash needs.


We offer the following 3 style kitchen sinks for use in our beautifully manufactured kitchen countertops. All of our sinks are 18-guage, stainless steel.
        Under Mount
Single Bowl
Double Equal Bowl
Offset Bowl
            Drop-In
Single Bowl
Double Equal Bowl
Offset Bowl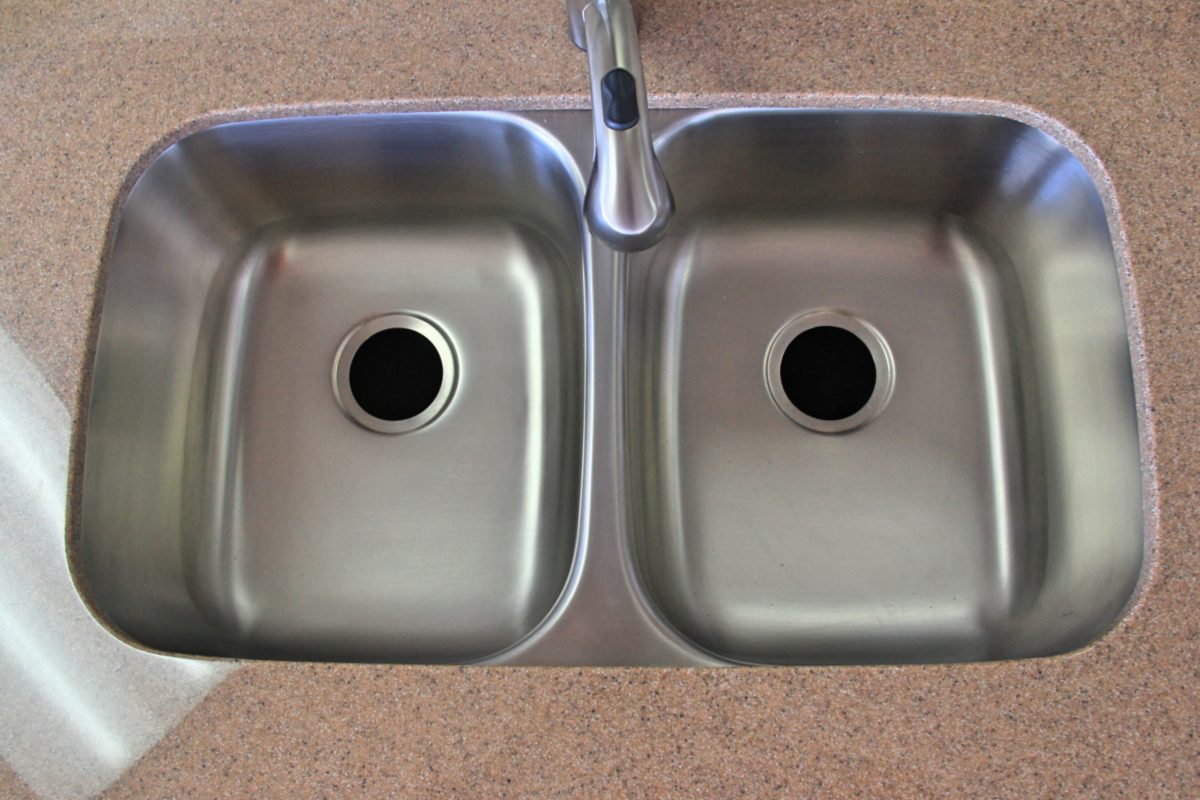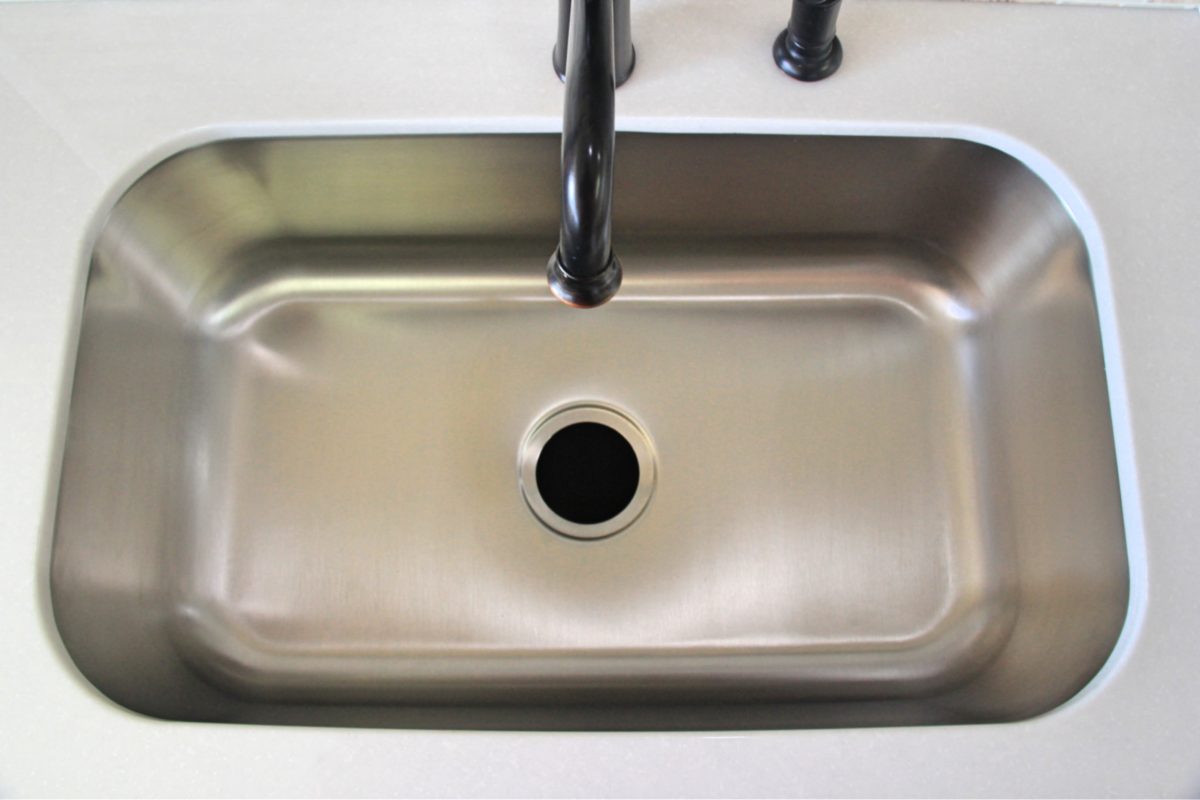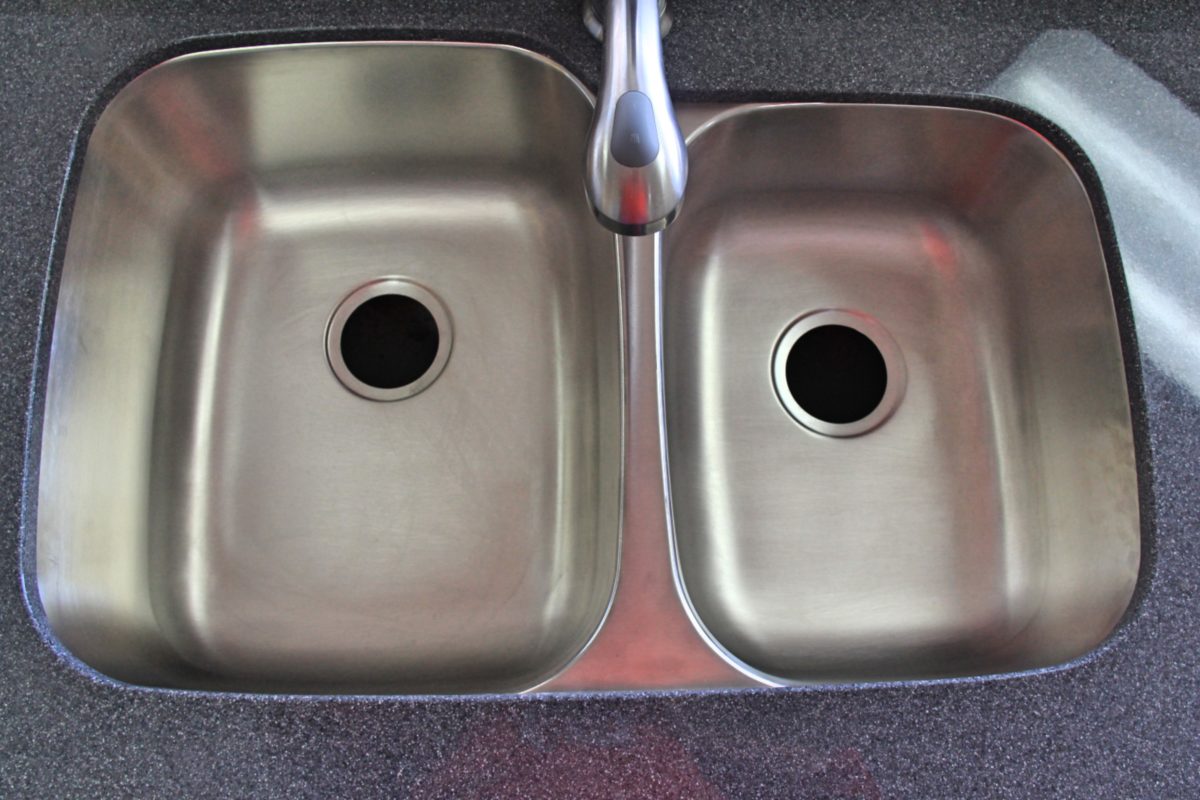 Cities We Serve
Myrtle Beach, Surfside Beach, Garden City, Conway, Aynor, Carolina Forest, Forestbrook, Little River, Calabash, Ocean Isle,
Longs, Loris, Murrells Inlet, North Myrtle Beach, Cherry Grove, Georgetown, Pawleys Island, Litchfield
*Georgetown residents: please verify address prior to placing an order.*